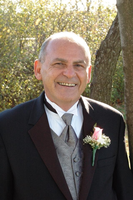 Michael Francis Ferriolo
Dr. Michael Ferriolo
On Wednesday, January 10, 2018, Dr. Michael Ferriolo, born in Corona, Queens, New York on November 17, 1943, passed away peacefully with loved ones at his side at Memorial Regional Hospital South in Hollywood, Florida after a year-long bout with lung cancer. Michael, a Psychologist and trusted counselor to many in his life, positively impacted nearly everyone he met with a genuine interest and regard for their well being.
Michael lived a diverse and full life, attending Sacred Heart Seminary from 1957-1961, studied and served while enrolled in The United States Army, he graduated with a degree in Philosophy from the University of San Diego in 1966 and a PhD in Counseling Psychology from The University of Southern California in 1972. Dr. Ferriolo moved his family to South Florida, and continued his service: at the Miami VA Medical Center from 1979-2000 and in private practice, while at the VA and throughout the remainder of his life.
Dr. Ferriolo was a strong proponent of equal rights and dignity for all. Michael had a unique way of making everyone feel cared for and well. Michael was an accomplished painter and enjoyed playing chess, basketball, and racquetball. Michael also enjoyed watching professional and college sports and listening to an array of music ranging from Mozart to The Mamas and Papas.
Michael will be forever remembered by his wife and best friend, Brenda, married August 22, 1973, and loved by their children: Monica, Matthew, and Nicholas [deceased]. Michael is also survived by 6 grandchildren, whom he deeply cherished and with whom he found great pleasure. From Monica: Kristen, Elizabeth, and Heather Odenweller. From Matthew: Michael, Luca, and Julia Ferriolo. Michael will also be deeply missed by both his older brother, Frank, and his younger sister, Cathy. Dr. Michael Ferriolo will be held fondly in the hearts of family, friends, and those who sought his counsel and guidance.
A Memorial Service for Michael Ferriolo will be held on Sunday, January 14th, between 1 p.m. and 4pm, at Joseph A Scarano Stirling Memorial Chapel located at 6300 Stirling Road in Davie.