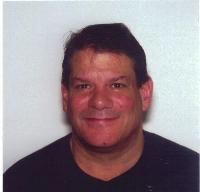 Darrin Jeffrey Lopez
DARRIN JEFFREY LOPEZ
06 September 1965 - 13 April 2017
Suddenly, 13 April 2017, at Memorial Hospital Miramar, the beloved son of June Thieme Lopez and the late Miguel A. Lopez, Sr. A 17 year resident of the Town Gate community, Pembroke Pines, FL, Mr. Lopez was born at Fort Dix, New Jersey, and was raised in the St. Louis, MO area, graduating from Oakville High School in 1983. He attended Southwest Missouri State, Springfield, MO and studied at the former Forest Park College of Culinary Arts, in St. Louis. He received further training as Apprentice chef at the Sands Hotel and Casino in San Juan, Puerto Rico. Mr. Lopez worked more than 29 years in the field of Restaurant Management.
Family members include New York siblings Enid, Mitchell, Carmen, and the late Miguelito Lopez; adored brother Miguel A. Lopez, Jr ( Luz Carrazana), Miramar, FL; nephew Randy Lopez (Rachel), Weldon Springs, MO: niece Tiffani C. Lopez, Miramar, FL (who has adopted Darrin's beloved dog, Scooter), and many cousins, nieces, nephews, aunts, and uncles from, Missouri, Florida, Massachusetts, New Hampshire, New York, and Puerto Rico. In particular, Mr. Lopez leaves behind his deeply loved extended Lopez family of Puerto Rico, especially aunts Isabellita, Rosin, Carmin (Samuel), and uncles Cheo, Timan (Nareida) , and Victor (Ramonita).
We will miss his humor, his wit, his infectious laugh, and his beautiful smile. He was a kind-hearted soul with a hard-work ethic and a hard-living attitude. He will be lovingly remembered and missed by family and friends.
Services will be held on Tuesday, 18 April 2017, 4:00 to 10:00 P.M. at Scarano Funeral Home, 9000 Pines Blvd., Pembroke Pines, FL, 33024. In lieu of flowers, donations may be made in honor of Darrin J. Lopez to the National Kidney Foundation, www.kidney.org