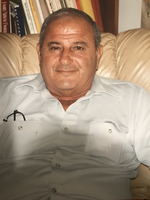 Jack Salvatore Salafrio
SALAFRIO
Jack Salvatore 90 of Davie, Florida passed away on April 13, 2018. Born October 20, 1927 in Brooklyn, New York to his loving parents Angelina Rosato and Gioacchino Salafrio. Beloved husband of Ulla Margaret Salafrio (Johansson). Loving father of Steven Salafrio"Teresa," Stephanie Castellana "Angelo," Jacqueline Pepe "Richard" and Thomas Salafrio. Grandfather of 4 Grandchildren. Brother of Ralph "Ray" Salafrio. The late Freddy, Jerry, Louie and Lucy. In Repose Tuesday, April 17, 2018 2&4 P.M. and 7&9P.M. Funeral Mass Wednesday, April 18, 2018 at 11:00 A.M. St. Bonaventure Catholic Church in Davie, Florida followed by burial at South Florida V.A National Cemetery in Lake Worth at 2:15 P.M. Arrangments by Joseph A. Scarano Stirling Memorial Chapel 6300 Stirling Road, Davie, Florida 33314. Jack Salvatore Salafrio was the son of Angelina Rosato and Gioaachino Salafrio and was born on October 20, 1927 in Brooklyn, New York. Jack had four brothers and one sister. He is survived by his brother, Ray and is predeceased by his siblings Freddy, Louie, Jerry and Lucy. He attended Boy's High School until he started working on the waterfront as a Long Shoreman at the age of 15. In January 1946 he was inducted into the Army and served in Japan until March 1947.
On July 30, 1950 Jack married Josephine Susino and they had two daughters: Jacqueline Pepe and Stephanie Castellana. After a long illness, Josephine died in January 1966. Jack and his two girls moved to Long Island where Jack opened his own lumber yard business, Salbro Lumber, which he maintained for twenty-five years.
In 1968 Jack went on a cruise and met Ulla Margaret Johansson, who had a son Thomas. Jack and Margaret married in 1968 and they had a son, Steven. Jack had five grandchildren, Michael, Jack, Gina, Joseph and Sophia.
Jack was very interested in building and planting, which included palm trees of many varieties. He loved the land that he found in Davie and he actively worked on maintaining the property well into his 80s. Jack enjoyed having people over for Italian food and good stories.
Jack was a loving father and grandfather and everyone knew that he was a patient and thoughtful person who always gave us his full attention when we needed his wise and sensible advice.