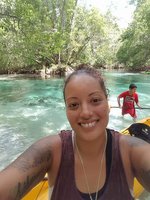 Jennifer S. Rivero
One night a man had a dream. In it he was walking along a beach with the Lord. Across the sky flashed scenes from his life. For each scene, he noticed two sets of footprints in the sand, one belonging to him, and the other to the Lord. When the final scene of his life flashed before him, he looked back at the footprints in the sand. He noticed many times along the path of his life there was only one set of footprints, and realized that they came at the hardest and saddest times of his life. Bothered about this, he questioned the Lord saying, "Lord, you said that once I decided to follow you, you'd walk with me all the way. But I have noticed that during the most burdensome times in my life, there is only one set of footprints. I don't understand why when I needed you the most you would leave me."
The Lord replied, "My dear child, I love you and I would never leave you. During the times of trial and suffering, when you see only one set of footprints, it was then that I carried you."
RIVERO
Jennifer S. of Lauderhill, Florida passed away January 5, 2019. Born May 29, 1988 in Ecuador to her loving parents Johanna Toledo Suarez and John Suarez. Beloved Sister to Freddy Rivero, Allan Torres and Michael Suarez. Grandchild to Azuzena. Visitation will be on Saturday, January 12, 2019 from 2:00 P.M. to 9:00 P.M. with a Prayer Service at 7:00 P.M. Arrangements by Joseph A. Scarano Stirling Memorial Chapel 6300 Stirling Road, Davie, Florida 33314.