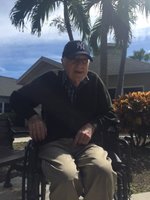 Joseph J. Rizzo
Joseph J. Rizzo, age 94, passed away peacefully Monday, June 3, 2019 in Hollywood, Florida. Joe was a World War II veteran who served in the Philippines. Due to his bravery, Joe earned several medals including the Purple Heart, Bonze Star. Joseph grew up in New York and Bayonne New Jersey, with his parents Vincent and Lillian Rizzo and sister Jean. He was a compassionate man with a love for life, good conversation, music, great food and as always, family.
He is preceded by his wife Augusta (Gussie) Rizzo. His is survived by daughter, Lee Lennon and his son, Vincent Rizzo.
Services: In Repose Sunday, June 9, 2019 from 2-4 P.M. & 7-9 P.M. Funeral Mass will take place Monday, June 10, 2019 at 11:00 A.M. St. Maurice Catholic Church following Burial at 12:45 P.M. at South Florida VA National Cemetery.
Arrangements by Joseph A. Scarano Presidential Memorial Chapel,4351 Hollywood Boulevard, Hollywood, Florida 33021 954-438-8222. In Lieu of flowers, family will like donations to Alzheimer's Disease Research Fund