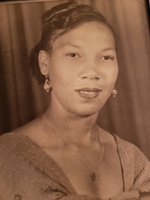 Maud Theresa Roach
Maud Theresa Roach (Nee: Bygrave) passed August 12, 2019 after an 11 year battle with Alzheimer's and Parkinson's at the age of 90. Better known as "Pastor Roach", "Girly" and "Auntie Girly" Theresa Roach was widowed in 2002 by her late husband Ainsley Errington Roach, and her son Lascelles Herbert Gilbert Cunningham (predeceased). Theresa will be dearly missed by Juliet (Faye) Longmore, her grandchildren, Kim Kuhtebul, Lascelles Corey Cunningham (Angie), her great granddaughter Cassandra Emma Cunningham and many other local nieces, nephews and even more extended family and friends.
Maud Theresa Roach was born on April 4th, 1929 in Jamaica, W.I. to Eustace and Hazel Bygrave. Theresa Roach joins her siblings in the afterlife Lena, Ruby, Roy, Jack, Barbara, Henry, Norma, Shirley, Valerie.
Theresa left her native Jamaica as a young woman and went to New York to beauty school. She later migrated to Toronto, Canada where she married in 1962 and spent 21 years as a business owner before moving to South Florida in 1983 where she remained ever since. In 1992, after a successful prayer group, she opened her own church on Washington Street in Pembroke Pines until 2003. Theresa Roach will be remembered dearly for her life's work, dedication and perseverance.
There will be a graveside service Wednesday August 14th at 11:00am at Fred Hunter's Hollywood Memorial Gardens North 3001 N 72nd Ave, Hollywood Florida, 33024. A family celebration of life will follow in the weeks to come.
In lieu of flowers, we encourage donations to any Alzheimer's or Parkinson's charity of your choice.