954-438-8222/305-945-7737/800-423-5901
|
info@scaranofuneralhome.com
|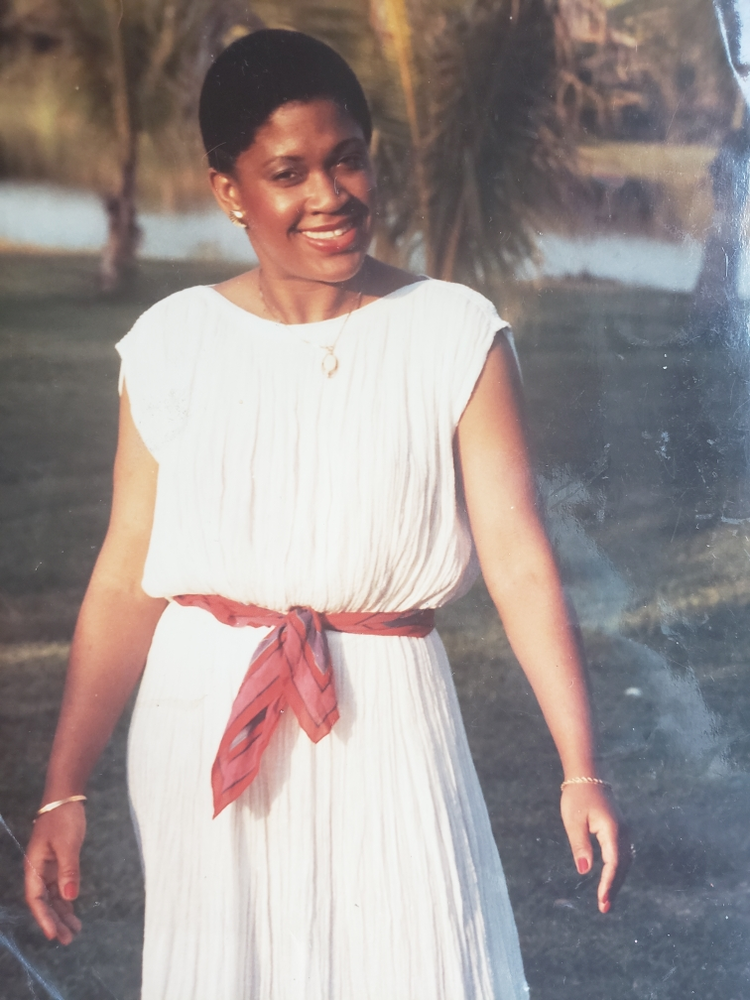 Obituary of Claudia R. Williams- Hope
Claudia Rhoda Williams-Hope was born on the West Indian island of Dominica on November 3, 1956 and passed in her home in Miramar, Florida on October 9, 2020. A mother, sister, aunt, cousin, and friend, Claudia died at the age of 63 after a brief battle with several medical illnesses. She had her dedicated, trusted friend of 21 years, Deborah Wood, by her side. Claudia was preceded in death by her grandmother Ruby Williams, Father Hubert Williams, and her brother Ramie Williams. She is survived by her son Arthur Williams, Mother Linda Tyson (George), and stepmother Angela "Big Mama" Williams. Brothers: Mackberth (Olga), Aldon (Joanne), Orville (Zepha), Gibson (Anette), Embert (Louisa), Nickie Pierre, and Macbeth Pierre (Pam) Clyde Williams. Sisters: Royette McPherson, Jacqueline Blythewood (Joseph), Elma and Bernard Williams, Athlene Fontine (Timothy), Elva Downer (Cordel), Claudette Williams, and her sweet little Shih tzu, Coco Chanel Mademoiselle. She has left to mourn many nephews, grandnephews, nieces, grandnieces, and cousins too numerous to mention. Claudia was a passionate person and an astute businesswoman. She had an enthusiasm for bringing high-end merchandise to her customers at several airport locations, most recently with her niece Brittany in Melbourne, FL. Claudia was a great chef and loved fine dining. Her last Facebook post reminded us she was always quite the "foodie." Many of us will remember her love of seafood, room service, fine dining, and her amazing cooking. She was an outstanding cook in her own right, accommodating family and friends on special occasions with her Caribbean specialties—skills she must have picked up being from the Virgin Islands and her Pops. Claudia loved to travel, to the extent where her brother Mackberth and she were always in competition as to who would travel to a new destination first. Last year, Claudia joined her stepmother, Angela, and longtime friend, Denise, on their dream vacation in Europe, visiting Italy, France, and Spain. She loved gardening and always kept up with the latest in fashion—never to be seen without her classy look: signature red lipstick, beautifully coordinating purse and shoes, and her red nails. Her politics were personal, sincere, and far-reaching, encouraging everyone to vote. She was passionate about helping those from underrepresented backgrounds. Through her Hope Foundation, she was able to help disadvantaged youth and impacted their lives, giving them hope and a chance to succeed. Claudia was always willing to lend a helping hand and often did it anonymously: sometimes slipping $20 into a person's purse when they went to the restroom or sending something to a friend in need. She never made a big deal when it came to gift-giving—it just made Claudia happy to see a smile on their face. To say that Claudia will be significantly missed is an understatement. Her beautiful, charming smile always lit up a room. Claudia's can-do and winsome personality, savvy business acumen, and love for life and family will be greatly missed by all those who knew and loved her. Her laugh was infections, and her positivity and poise were unmatched. May she rest in peace. In Repose Sunday, October 18, 2020 from 4:00 P.M. to 6:00 P.M. Funeral Service will be held on Monday, October 19th, 2020, at the Joseph A. Scarano Funeral Homes in the Pines Memorial Chapel. Her family will be receiving visitors from 10:00 am to 12:00, with a service to follow in the chapel. 9000 Pines Blvd. Pembroke, FL 33024 (954) 438-8222. Claudia will be laid to rest in the same cemetery where Pops (her dad) is resting. Fred Hunter's Hollywood Memorial Gardens North Cemetery. 3001 N. 72nd Ave. Hollywood, FL (954) 989-1550.
In Repise
4:00 pm - 6:00 pm
Sunday, October 18, 2020
Joseph A. Scarano Pines Memorial Chapel
9000 Pines Boulevard
Pembrooke Pines, Florida, United States
(954) 438-8222
Funeral Service
10:00 am - 12:00 pm
Monday, October 19, 2020
Joseph A. Scarano Pines Memorial Chapel
9000 Pines Boulevard
Pembrooke Pines, Florida, United States
(954) 438-8222
Burial
Hollywood Memorial Gardens North Cemetery Hollywood, Florida
Share Your Memory of
Claudia
954-438-8222/305-945-7737/800-423-5901
info@scaranofuneralhome.com
Joseph A Scarano
Pines Memorial Chapel
9000 Pines Boulevard
Pembroke Pines, Florida 33024
​(MAIN OFFICE)
954-438-8222 / 305-945-7737 / 800 423-5901
Pembroke Pines/Miramar/Hollywood/Cooper City / Davie /SW Ranches/Miami Lakes /Hialeah /West Park
​OWNER: JOSEPH A. SCARANO
Joseph A Scarano
Presidential Circle Memorial Chapel
4351 Hollywood Boulevard
Hollywood, Florida 33021
954-438-8222 / 800-423-5901
1 mile west of 95 on right NE corner of N 44 Ave
Greater Hollywood / Hallandale Beach/ Aventura/Greater Miami/ Dania Beach
​OWNER: JOSEPH A. SCARANO
Joseph A Scarano
Stirling Memorial Chapel
6970 Stirling Road
Davie Hollywood Florida 33024
For GPS directions use
6300 Stirling Road, Davie Fl. 33314
954-438-8222 / 800-423-5901
Davie/Plantation/ Greater Hollywood/ Dania Beach
​OWNER: JOSEPH A. SCARANO
Scarano Robert Greaver Funeral Home

Scarano Asian Funeral Home

Scarano Eternal Light Funeral Home

Scarano Funeraria
El Mar Caribe
Scarano Funeraria Rosario Rivera

Hospice Cremations By Scarano

Traditional Funeral with casket,
Visitation followed by burial, entombment or ship-out
Traditional Funeral with visitation , rental casket and cremation
Celebration of Life Memorial Service and cremation (without decedent present)
Graveside Service with casket ( no viewing) ceremony at cemetery
Direct Cremation (non-funeral) ( non-ceremony)
Direct Burial with casket ( no viewing ) (no ceremony)
Price is Key . For information call 954-438-8222
PRE-NEED 0R AT-NEED SAME PRICE !