954-438-8222/305-945-7737/800-423-5901
|
info@scaranofuneralhome.com
|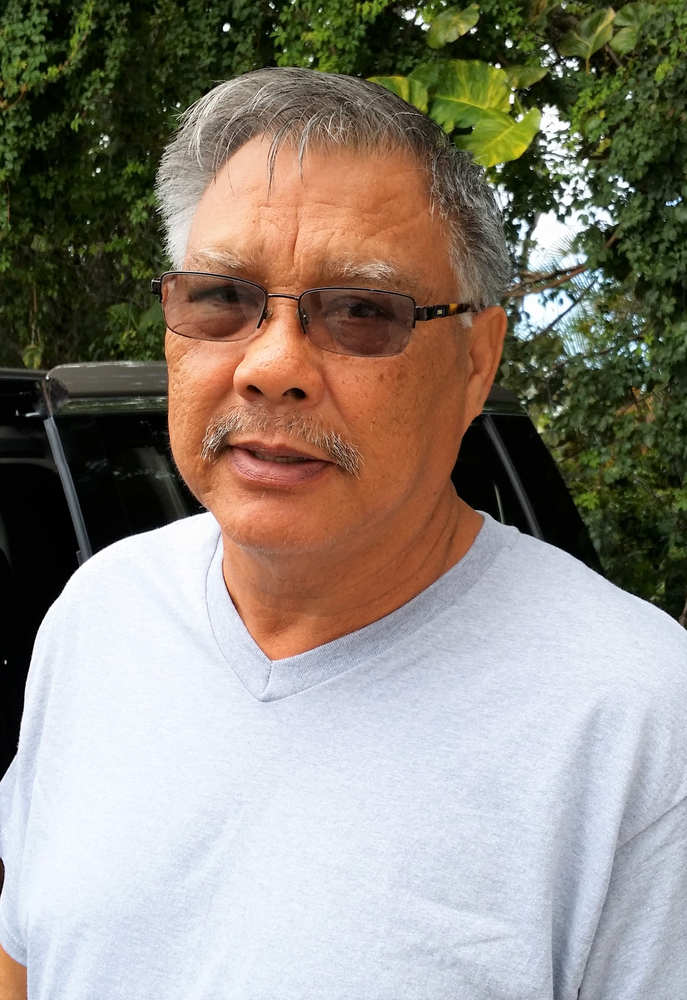 Obituary of Raymond Anthony Hue
HUE Raymond Anthony 64 of Miramar, Florida departed this Life January 11, 2021. Born May 19, 1956 in St. Thomas, Jamaica to his parents The Late Ronald Victor Hue and Olive Iona Chin Hue. Devoted husband of Lily Hoo Hue. Loving father of Kerri Ann Blake "Walter," Nordia Rose "Peter," Raymond Hue, Jr. "Ashley" and Marsha Chong. Cherished grandfather of 7 grandchildren. Brother of Carl Hue " Claire," Angela Magee "Van" and The Late Ronald Hue, Jr. "Racquel." In Repose Monday, January 18, 2021 from 5:00 P.M. to 8:00 P.M. Chapel Services Tuesday, January 19, 2021. Burial will take place in St. Thomas, Jamaica. Please keep the Hue family in your prayers. The Joseph A. Scarano Pines Memorial Chapel is Honored to assist the Hue family with the arrangements. Raymond Anthony Hue, a/k/a Bigga Ray, was born on May 19, 1956 at Princess Margaret Hospital in St. Thomas, Jamaica. He was the first of three children born to Ronald and Olive Hue. Raymond grew up in Trinityville, Font Hill, and spent many years in Danvers Pen. Raymond met the love of his life, Lily Hoo, in Seaforth, St. Thomas. Ray, his younger brother, Junior, and his cousin, Gary, would ride their bicycles to Seaforth to pick up Lily's brother, Steven, and the group would ride to Morant Bay. Lily's father used to sell bicycle parts and Ray would use the excuse of needing parts for his bicycle as a reason to go visit Lily. Over time, they became very good friends. They got married in Kingston on May 21, 1978. Ray had 4 children – Marsha, Kerri-Ann, Nordia and Raymond, Jr. (Chin). He was very proud of his children's accomplishments. He would introduce Marsha as a doctor, and Kerri-Ann as the doctor who couldn't write prescriptions. Nordia is the banker who tells people what to do with their money, and Chin followed in his footsteps in trucking. He always wanted his children to be independent and he did his best to help them achieve their goals. Nothing was ever too good for them. He had 3 siblings: Carl (Claire), Ronald, Jr. (deceased) (Kelly), and Angela (Van). Ray has been awarded "ownership" of his late brother Junior's grandchildren, giving him a total of 10 (Caneil, Karese, Olivia, Kaylin, Keegan, Kaleb, Riley, Karissa, Carter, and Madison). He also leaves behind five nieces and nephews (Ava-Gaye, VJ, Whitney, Justin, and Kejuan). Raymond graduated from Kingston College in 1973 and attended CAST where he studied HVAC. His first job was at Arel Air Conditioning, where he spent about a year, after which he decided to go into trucking. Ray was always a hard worker, who started driving before he was even old enough to get a driver's license. His Uncle Duds gave him an old truck and he used it to haul sugar from Duckenfield Sugar Factory to the Kingston Wharf. After that early stint in the trucking business, Raymond and Junior started a mini-bus company in the mid-1970s. He was a self-taught mechanic, having had to repair the trucks and mini-vans when they broke down. After Hurricane Gilbert in 1988, Raymond permanently relocated to Kingston and joined Lexsun, Ltd., the family business, where he was Mr. Fix-It. Even though he was a director at Lexsun, Ray managed production and maintained the equipment and machinery himself. He was a master at his trade and taught his staff many life lessons, always telling them, "Learn something so that when you leave here, you're better off than when you came. Yuh nuh come fi turn stone." These words, though simple, were very poignant and have positively impacted the lives of those who worked for him and with him! He was a visionary in the industry – always researching, experimenting, and creating something or modifying some tool to utilize in ways other than what it was designed for. When it came to production and efficiency, he made sure that Lexsun was always one step ahead. He was well-loved, respected and appreciated by his work family, their families and so many customers, just for his pure, down-to-earth and easy-going spirit. A customer could come in to buy one item and find him/herself sitting and talking to Ray for hours. They would be engaged in some enlightening conversation, whether he was giving expert advice on a product or discussing current affairs, trucks, music, natural remedies or even gardening. During this time, he also started a haulage company, called Ray's Trucking. He was very good with his hands and taught himself to fix anything that was broken. He was known as the MacGyver of the family; he built his own solar system for the house and he made his own food dehydrator. He even made his own working coconut oil press, simply out of a pot and a clamp. Later in life, Ray developed a love for plants and flowers, especially orchids. He has left hundreds of orchids in his garden. This is a passion he shared with his mother, Olive, with whom he was extremely close. Raymond had a deep love of and appreciation for music that was apparent to all who knew him. He could often be found playing music at home for his family and, more publicly, he carried on his late father's musical sound, Cassim International. He won many sound clashes and was very proud of his accomplishments in the music world. Ray was a natural with the technical and acoustical aspects of sound, how the music should be played, in what order the songs should be played and the impact it would have on the crowd. He was a musical master who loved the craft. Ray helped raise many children, in addition to his own, whose names are too numerous to list. Through his actions and direct involvement in each of their lives, he made them all feel loved and special in his own way. Even though he protected and spoiled them, he also taught all of them right from wrong, to stand up for what they believe in, to always help their fellow man no matter his station in life and, above all, the importance of commitment to family. Ray was also what we would call a jokester. He had a great sense of humor. He would regale (read: "terrorize") the children with stories, especially about food. Whenever you heard the question: "You know how them mek that?" or "You know where that come from?" – watch out! There was the story of how gizzada was made: the old lady with no teeth would chew up the coconut, spit it out, and then make the gizzada from the chewed-up coconut. Dumplings were made by the one-armed lady. The dough was rolled under her armpit. Then there were the foods you shouldn't eat, like oxtail - because the cow used its tail to wipe its butt when it pooped. He especially loved terrorizing his niece, Whitney, with the story of why she should not eat pepper shrimp. According to him, the people in the country did not have indoor plumbing so they had to go to the "head" of the river to use the bathroom. The shrimp would then eat that. After those stories, poor Whitney did not eat shrimp for quite some time. He enjoyed going bird hunting during bird season with his late Uncle Chippy and his nephews, Justin and Jovelle. Due to declining health, Ray emigrated to the United States in June 2019, to live with his mother and – as he called her – his "sista", Angela. He underwent quintuple bypass surgery later that month and started dialysis a few months after that. The love Angela had for her brother was ever evident. Whatever he asked for, she would get it – even if it meant she had to drive through every county in the state to find it. Angela and Olive fussed over him to make sure he was eating, taking his medicine, was comfortable, and that all of his needs were met. Throughout the past couple years, he never gave up hope of returning to Jamaica. It was truly the Land that he loved. However, it was not to be. One never had to wonder what was on Ray's mind. He spoke "passionately," in the most colorful language and did not hesitate to tell you what he thought. He was very independent and proud. He was fair and honest. Raymond was one of the most selfless human beings. He would gladly give of his time and talents to anyone who was in need and/or willing to learn. When you had Ray as a friend, you had a friend for life. Ray loved his family and he loved his community. He did his best to bring others along in all of his successes, never forgetting where he came from. Seeing and interacting with his grandchildren brought him the greatest joy. He was very protective of those he cared about. It's difficult to put into words what Ray meant to his family and what his family meant to him. In addition to his wife, mother, sister, brother, children, grandchildren, nieces and nephews, Ray leaves to mourn one uncle (Herman), five aunts (Kitty, Peggy, June, Greta, and Merle), numerous beloved cousins, and friends. He was predeceased by his father, Ronald; his brother, Ronald Junior; and 6 uncles. His passing leaves a void that is impossible to fill. May his soul rest in eternal peace.
In Repose
5:00 pm - 8:00 pm
Monday, January 18, 2021
Joseph A. Scarano Pines Memorial Chapel
9000 Pines Boulevard
Pembrooke Pines, Florida, United States
(954) 438-8222
Chapel Service
11:00 am - 12:00 pm
Tuesday, January 19, 2021
Joseph A. Scarano Pines Memorial Chapel
9000 Pines Boulevard
Pembrooke Pines, Florida, United States
(954) 438-8222
Burial
Red Hills Cemetery St. Thomas, Jamaica
Share Your Memory of
Raymond
954-438-8222/305-945-7737/800-423-5901
info@scaranofuneralhome.com
Joseph A Scarano
Pines Memorial Chapel
9000 Pines Boulevard
Pembroke Pines, Florida 33024
​(MAIN OFFICE)
954-438-8222 / 305-945-7737 / 800 423-5901
Pembroke Pines/Miramar/Hollywood/Cooper City / Davie /SW Ranches/Miami Lakes /Hialeah /West Park
​OWNER: JOSEPH A. SCARANO
Joseph A Scarano
Presidential Circle Memorial Chapel
4351 Hollywood Boulevard
Hollywood, Florida 33021
954-438-8222 / 800-423-5901
1 mile west of 95 on right NE corner of N 44 Ave
Greater Hollywood / Hallandale Beach/ Aventura/Greater Miami/ Dania Beach
​OWNER: JOSEPH A. SCARANO
Joseph A Scarano
Stirling Memorial Chapel
6970 Stirling Road
Davie Hollywood Florida 33024
For GPS directions use
6300 Stirling Road, Davie Fl. 33314
954-438-8222 / 800-423-5901
Davie/Plantation/ Greater Hollywood/ Dania Beach
​OWNER: JOSEPH A. SCARANO
Scarano Robert Greaver Funeral Home

Scarano Asian Funeral Home

Scarano Eternal Light Funeral Home

Scarano Funeraria
El Mar Caribe
Scarano Funeraria Rosario Rivera

Hospice Cremations By Scarano

Traditional Funeral with casket,
Visitation followed by burial, entombment or ship-out
Traditional Funeral with visitation , rental casket and cremation
Celebration of Life Memorial Service and cremation (without decedent present)
Graveside Service with casket ( no viewing) ceremony at cemetery
Direct Cremation (non-funeral) ( non-ceremony)
Direct Burial with casket ( no viewing ) (no ceremony)
Price is Key . For information call 954-438-8222
PRE-NEED 0R AT-NEED SAME PRICE !