954-438-8222/305-945-7737/800-423-5901
|
|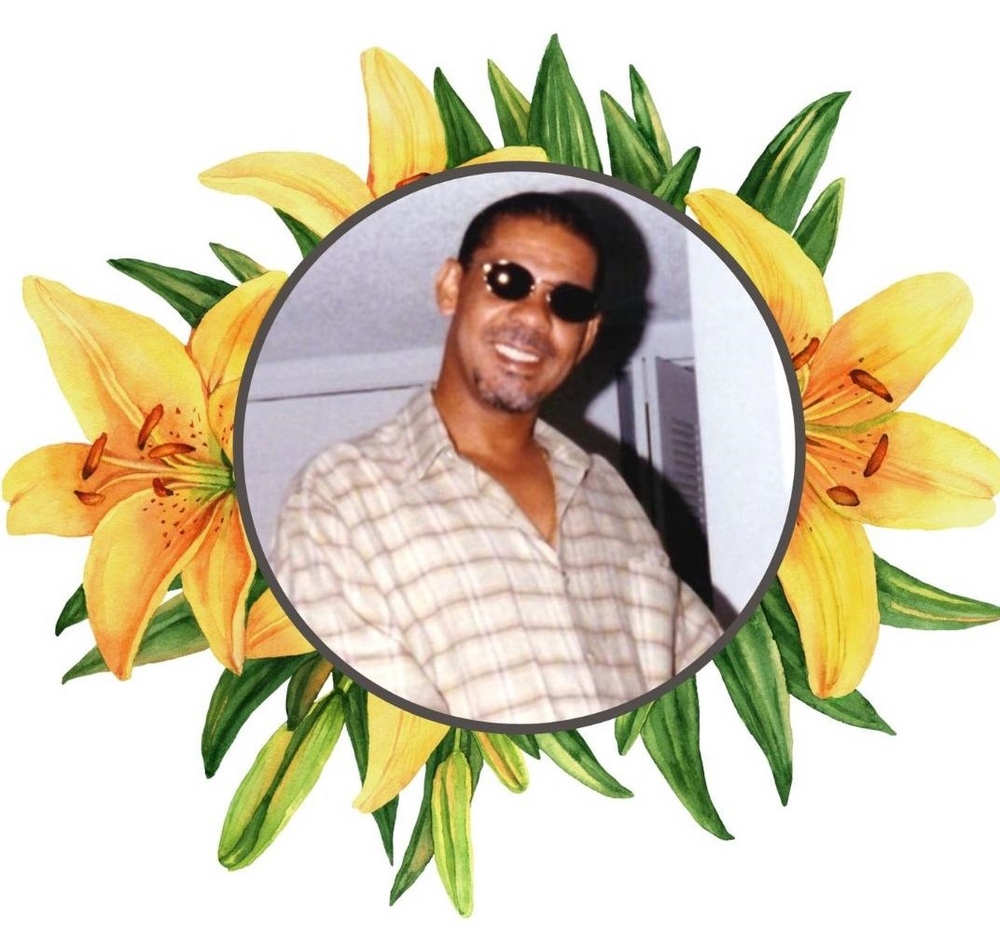 Obituary of Errol S. Paul
Errol Sylvester Paul came into this world on July 24th, 1954 to Mercella and Eric Paul. His sisters described him as the "pride & joy" of the family. He could do no wrong. He was the Prince and they were simply his handmaids. But like every Prince, he was not only of royal standing to those who loved him. He was a man of the people. Kind, compassionate, funny, caring. The kind of person who finds food for a hungry dog. The kind of person who makes you smile through your tears. A Prince. This is not to say he didn't get into his fair share of antics. Skipping school with his sister Cassie or just making good trouble with Marie, Rose, & Beverly. A fond memory is when they were all young children living in Jamaica and Marie asked Errol for some money to make soup. One of this favorite meals. Even though he did have the money, he lied and said, "Bwoy Marie, if yuh tun mi upside down right now, yuh wouldn't find a dollar pon mi." She eventually got the money from her now husband Vin and cooked the soup while Errol was out. To get revenge for his lie, Marie hid the pot of soup from Errol and told her younger sisters not to say anything. But Errol had a nose for good food and, upon his return home, knew something had been cooked. He pried and pried but Marie wouldn't budge. It was Rose, his chatterbox, partner-in-crime little sister that eventually told him. Errol, unbeknownst to Marie & Cassie, got himself a bowl, filled his belly and returned the pot of soup to its hiding spot. As he got older, these qualities only grew. He was not only interested in antics and food. He was also a lover of music and fixing bikes but most of all, racing. Errol, good looking young man he was, was quite the entertainer and social butterfly. He would spray himself with cologne, along with his bike [because that bike had a personality of its own] and ride down to Vineyard Town to show off his wheelies. Yes, Errol loved racing. It was as though the purr of the engine was his own heartbeat and the fuel was his own blood. This was definitely not the safest passion and he did end up in the hospital [as one would expect from a man who used his bike to defy the laws of nature.] But he hated hospitals and could not wait to get back to his thrill-seeking. A trait that would stick with him throughout the rest of his life. Though it had its dangers, the bike riding lifestyle caught the attention of many ladies. Errol, however, only had eyes for one. Carol or Moy as many know her. Errol met Carol when she was 13 years old. As a young school girl, she set eyes on him working on bikes. She described him as greasy. But that was Errol, a hard worker who didn't mind getting his hands dirty. He would tease that he liked her and would one day be with her. Well, he made good on his promise because, just three years later, they officially began to date at age 16. It would be a very fair statement to say they were soulmates from the very beginning. Sneaking out to parties behind the very strict back of Carol's step-father, Alvin, with the help of her mischievous sister Jeanette (Nucklyn) became a pastime. But sneaking out would soon turn to staying in as the two welcomed their first child, a boy, Chad Paul on July 26th, 1974. The perfect birthday gift for Errol. As Chad got older, his father's bike-riding blood was passed on to him. Though he no longer engages in the sport, the many teachings of his father shaped him into the charismatic, hard working man he is today and his love for loud cars paying homage to his father's love for a good engine. Their love further blossomed when they welcomed their second child, a girl, Taneshia Paul on June 10th, 1977. Another birthday gift, this time just 44 days early. Taneshia took on Errol's entertaining spirit and love for food. She is now known as the best host & chef in the family; her barbi-fried chicken deserving to win awards. But Errol was a father figure to more than just his blood children. Forming close relationships was what he did. Though she already had a formidable, loving father, Errol took Monique, Carol's younger sister, under his wing as if she were his own. The two sharing a bond that only she could do justice. Errol & Carol, after building a home together and having two kids, finally decided to make things serious. The two got married on June 16th, 1979. This time, the birthday gift was for Taneshia. Birthdays were indeed something Errol will be remembered for. Using a chopper to cut cakes and sticking the foot of the youngest into the frosting then forcing everyone to eat it. See, this Prince definitely carried antics into his adult life. Some would say, however, the greatest gift he got was from his daughter Taneshia when she gave birth to a baby girl on December 29th, 1999. Everyone who knew Errol knew Jada was his favorite. Just as he was when he was a child, she was his pride & joy. She could do no wrong. She was the Princess and he was merely her handmaid. When Errol loved someone, he had to give them a nickname. So naturally, Jada was Spunky Lunky, Kimmy was Kimmy Cracker Face, Ann-marie and Roshena were Kitten & Mittens, Monique was Biggy, Sean was Kid Bowze, Stuart was Chicky Banton, Stephen was Mukku Man, and the list goes on. When Errol loved something, he was very specific about how he liked it. Johnny Walker as his choice drink. Tilapia as his choice fish. Soup as his choice lunch. And fish with tartar sauce & ketchup as his choice sandwich. With nothing. else. on. it. Which, today, is exactly how his granddaughter eats it. These, and many more, are the things he was known for. Errol Sylvester Paul was a good person. One who made you smile. One who would give you his last. And so he did, until the end. Son, brother, father, husband, grandfather, uncle, friend, and so much more. Errol leaves behind his loving wife Carol, two children Chad & Taneshia, granddaughter Jada, sisters Marie, Rose, Cassie, & Beverly, six sisters-in-law, three brothers-in-law, and nieces, nephews and friends too numerous to name. In Repose Sunday, March 20, 2022 from 11:00 A.M. to 3:00 P.M. Please keep the Paul family in your prayers. The Joseph A. Scarano Pines Memorial Chapel is Honored to assist the Paul family with the arrangements.
In Repose
11:00 am - 3:00 pm
Sunday, March 20, 2022
Joseph A. Scarano Pines Memorial Chapel
9000 Pines Boulevard
Pembroke Pines, Florida, United States
(954) 438-8222
Share Your Memory of
Errol
954-438-8222/305-945-7737/800-423-5901
Joseph A Scarano
Pines Memorial Chapel
9000 Pines Boulevard
Pembroke Pines, Florida 33024

Joseph A. Scarano Owner/Funeral Director
​(MAIN OFFICE)
954-438-8222
Chapels available in all Communities

Joseph A Scarano
Presidential Circle Memorial Chapel
4351 Hollywood Boulevard
Hollywood, Florida 33021
Joseph A. Scarano Owner/Funeral Director

954-438-8222
Chapels available in all Communities

Joseph A Scarano
Stirling Memorial Chapel
6970 Stirling Road
Davie Hollywood Florida 33024
Joseph A. Scarano Owner/Funeral Director
954-438-822223
Chapel available in all Communities
Funeraria Scarano Rosario Rivera
Funeraria Scarano
El Mar Caribe
International Funeral and Cremation Services
Scarano Robert Greaver Funeral Home
Hospice Cremation By Scarano
Scarano Asian Funeral Home
Traditional Funeral with casket,
Visitation followed by burial, entombment or ship-out
Traditional Funeral with visitation , rental casket and cremation
Celebration of Life Memorial Service and cremation (without decedent present)
Graveside Service with casket ( no viewing) ceremony at cemetery
Direct Cremation (non-funeral) ( non-ceremony)
Direct Burial with casket ( no viewing ) (no ceremony)
Price is Key . For information call 954-438-8222
PRE-NEED 0R AT-NEED SAME PRICE !