954-438-8222/305-945-7737/800-423-5901
|
|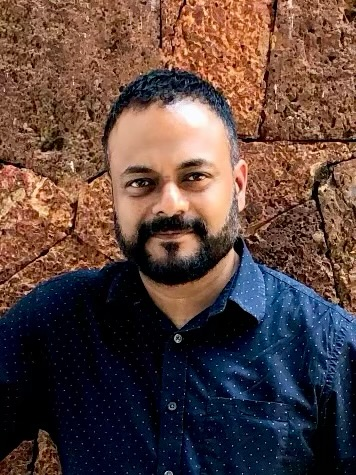 Obituary of Biju Vargheese
Please share a memory of Biju to include in a keepsake book for family and friends.
Biju Vargheese passed away peacefully in the presence of his beloved family on September 16th,2022 at the age of 50. Biju was born to M.C. and Elizabeth Varghese on May 31, 1972 in Punalur, Kerala. His only sibling, Beena, was a vital part in raising him to be independent and responsible. At a young age, he explored one of his many talents in the arts. He always had a passion for capturing the beauty in everything surrounding him, through both art and photography. His creative mind flourished as a child—he was determined to showcase his drawings, whether it be on a sketchbook or on the walls of his childhood home. He had a special connection to music; he created his own at-home studio where he recorded and edited music for his church, St. Peter's Jacobite Church, and other organizations. He started collecting music as a child, which eventually inspired his love for vinyls. Biju also enjoyed traveling, and trying various authentic foods. He worked as a software engineer for over twenty years, and as an engineer, Biju was a visionary for his team, always bringing the most unique and innovative ideas to the table. In the year 2000, Biju got married to the love of his life, Dalia. He resolved to treat Dalia with the utmost generosity and would spare no cost to demonstrate his love for her. They began their lives together in Phoenix, Arizona, where they would eventually have their two children, Anakha and Abhinav. Biju was a caring and devoted father, who committed to raising Anakha and Abhinav to their fullest potential, never failing to teach them valuable lessons. He was the strongest pillar of his family, encouraging them that no goal was unattainable, and inspiring them to chase their dreams.Biju accepted Jesus Christ as his Lord and Savior; throughout his journey, he made an active effort to explore and study the profound Word of God by reading the Bible and listening to messages. He will be fondly remembered by his loved ones for his witty sense of humor and resilient spirit. A service for Biju will be held on the 23rd of September at 10 am for his family and friends topay their respects.
Share Your Memory of
Biju
954-438-8222/305-945-7737/800-423-5901
Joseph A Scarano
Pines Memorial Chapel
9000 Pines Boulevard
Pembroke Pines, Florida 33024
Joseph A. Scarano Owner/Funeral Director
​(MAIN OFFICE)
954-438-8222
Services available in all Communities
Joseph A Scarano
Presidential Circle Memorial Chapel
4351 Hollywood Boulevard
Hollywood, Florida 33021
Joseph A. Scarano Owner/Funeral Director
954-438-8222
Services available in all Communities
Joseph A Scarano
Stirling Memorial Chapel
6970 Stirling Road
Davie Hollywood Florida 33024
The real estate was sold.
This building is closed.
Our services continue at our Pembroke Pines and Hollywood Blvd. locations
954-438-822223
Funeraria Scarano Rosario Rivera
Funeraria Scarano
El Mar Caribe
International Funeral and Cremation Services
Scarano Robert Greaver Funeral Home
Hospice Cremation By Scarano
Scarano Asian Funeral Home