954-438-8222/305-945-7737/800-423-5901
|
|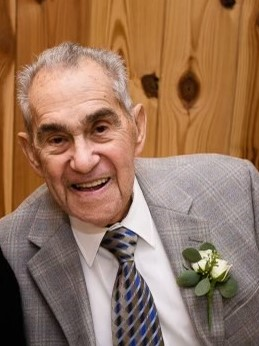 Obituary of Salvatore Leo Olympio
Please share a memory of Salvatore to include in a keepsake book for family and friends.
Salvatore Leo (Sal) Olympio, 92, of Pembroke Pines, Florida, passed away peacefully at his home, surrounded by his family, on Sunday, January 29, 2023. Funeral services will be held at Scarano Memorial Chapel 9000 Pines Boulevard on Tuesday, January 31st at 7:00pm with Rev. Steven O'Hala, Pastor of St. David Catholic Church officiating at 8:00pm. Funeral mass will be conducted Wednesday, February 1st at 10:00 am followed by entombment services at Hollywood Memorial Gardens, Liberty Building on Taft Street. Salvatore was born in Elizabeth, New Jersey in his parents' Salvatore and Jennie's home on Jackson Avenue, September 11, 1930. He was orphaned of both parents by age 16 and raised by his loving sisters, Rose Vosseler and Dolly Gatto. He graduated from Jefferson High in Elizabeth and proudly served in the United States Army during the Korean war, stationed at Fort Dix, New Jersey, primarily as a cook. Such was the origin of the Olympio family pancakes, now made weekly by the third generation. Sal was a very industrious and disciplined laborer, having learned skills in carpentry, sheet metal, masonry, plumbing, air conditioning, auto mechanics, and electricity. His main employment at H. B. Fuller Adhesive Company earned him the distinction of establishing a subsidiary plant in Managua, Nicaragua and a promotion to Plant Manager in San Juan, Puerto Rico, which he declined in favor of his family's desire to remain in the mainland United States. Sal then assumed ownership of Leo's Bar and Grill in Elizabeth, having worked there for his God-parents Leo and Marge Corbo. Always acting in the benefit of his family and children, Sal departed from this lucrative but exhausting business to move them into a lovely new home in south Florida's newly established Pembroke Pines, where he was employed the remainder of his working career as a natural gas service technician. He retired early to continue spending his free time with his loving wife Joan, and always helping his three sons, Robert, Richard and Michael. Sal enjoyed doing all manner of maintenance himself, and taught his sons how to be self-sufficient, hard-working, frugal, generous, and kind to others. He quietly and humbly served his Lord Jesus Christ in exemplary fashion to his children. Sal is survived by his wife Joan Marie Olympio, 88, Pembroke Pines, having celebrated 68 years of inseparable marriage. He is also survived by his son Robert (Rhonda) and Michael (Georgia) of Winston-Salem, NC, and son Richard (Jackie) of Pembroke Pines. Grandchildren Candie, Richie (Cori), Joseph (Laura), Nicole (Nick), Helena (Adam), Jennie (Brent) and Marie (Ricky). Great-grandchildren Ryan, Nathan, Natalie, Mikayla and Gabriel. He is also survived by his nieces Virginia Ward, Jennifer Peterson, Donna Cassidy, Jan Cavalla, and nephews Bill and Buddy Vosseler. Sal was preceded in death by his brothers Charlie and Jimmy and sisters Rose and Dolly and grandson Nicholas Salvatore. Memorial donations may be made to St. Jude's Children's' Research Hospital. The family would like to thank so many friends and family for their comforting words, prayers, gifts and condolences. Please keep the Olympio family in your prayers. The Joseph A. Scarano Pines Memorial Chapel is Honored to assist the Olympio family with the arrangements. Eulogy for Salvatore Leo Olympio My name is Michael, the third and youngest son of Joan and Salvatore Olympio, speaking on behalf of my brothers Robert and Richard. Our family would like to sincerely thank you for your condolences, your prayers and your friendship this evening as we mourn the loss of our father, Salvatore. My father was not a perfect man. None of us are, for that matter, but my father was a Great Man, a Great Father and a Great Husband. Just a few adjectives would describe him as Selfless, Loving, Humble, Frugal yet Generous, Stubborn and Slow to Anger, yet Highly Volatile and sometimes Frightening. Sal was a man of principle, who lived a privately concealed spiritual life. He saw everything in Black or White (including the television, if possible) and you always knew where you stood with him. Sometimes facts didn't matter, because it was all about substance, integrity and honor. Like when I came home one night at 2am and he was literally standing in the front yard with a club, waiting to discipline me. Yes, he was a disciplinarian. He demanded respect, decency, hard work and doing your best at all times; because that is how he lived and how he survived his own tough life, and because he wanted his sons to have a better life than his own. He succeeded in all of those things. We could not have had a happier and more stable childhood and adulthood; much like "Leave it to Beaver" that I still watch every week on television. Every Holiday, Birthday and Special occasion was magically celebrated with good food, good cheer, great family and great spirits! Sunday drives to the mountains, to the parks or the city, to the Jersey Shore, or visiting relatives. Some of the finest, yet simple vacations to all kinds of destinations. Some of the most enjoyable times were spent simply in front of old western movies or football, praying the New York Jets would again win the Super Bowl. Dad always rooted for the underdog, because he always had such deep sympathy for the oppressed and suffering. Lord only knows how many of mom's sandwiches he gave away free at the tavern. And only his family knows why he lived so long till age 92, despite some very serious medical problems and four life-threatening events: To take care of his beloved wife, our mother Joan, for the past 68 years. In summary, we honor and cherish the memories of our father Sal. We are blessed indeed to have surrounded his bedside at his last breath, his wishes honored. Thank you all for being here with us, celebrating the life of this Great man. Please stay and visit with us.
Share Your Memory of
Salvatore
954-438-8222/305-945-7737/800-423-5901
Joseph A Scarano
Pines Memorial Chapel
9000 Pines Boulevard
Pembroke Pines, Florida 33024
Joseph A. Scarano Owner/Funeral Director
​(MAIN OFFICE)
954-438-8222
Services available in all Communities
Joseph A Scarano
Presidential Circle Memorial Chapel
4351 Hollywood Boulevard
Hollywood, Florida 33021
Joseph A. Scarano Owner/Funeral Director
954-438-8222
Services available in all Communities
Joseph A Scarano
Stirling Memorial Chapel
6970 Stirling Road
Davie Hollywood Florida 33024
The real estate was sold.
This building is closed.
Our services continue at our Pembroke Pines and Hollywood Blvd. locations
954-438-822223
Funeraria Scarano Rosario Rivera
Funeraria Scarano
El Mar Caribe
International Funeral and Cremation Services
Scarano Robert Greaver Funeral Home
Hospice Cremation By Scarano
Scarano Asian Funeral Home
OPEN AND CLEAR PRICING
AFFORDABLE, QUALITY CARE FOR ALL
Full Service Traditional Funeral with casket, 2 Days of visitation up to 8 hours followed by burial, entombment or ship-out starting at $4995.00
Limited Service same day visitation up to 4 Hours from 10:00 A.M. to 2:00 P.M. with casket followed by burial, entombment or ship-out starting at $4500.00*
Full Service Traditional Funeral with 2 days visitation up to 8 hours , rental casket and cremation starting at $4500.00*
Limited Service same day visitation, rental casket and cremation 5:00 P.M. to 11:00 P.M. starting at $3600.00*
Limited Service same day visitation, rental casket and cremation 4:00 P.M. to 7:00 P.M. starting at $3200.00*
Celebration of Life Memorial Service and cremation (without decedent present) starting at $2495.00*
Graveside Service with casket ( no viewing) ceremony at cemetery starting at $2495.00*
Direct Cremation (non-funeral) ( non-ceremony) starting at $1500.00*
*Excluding cash advances, prices subject to change unless Pre Paid.
For helpful information call 24 hours 954-438-8222 /305-945-7737
Para informacion util llame 24 horas 954-438-8222/305-945-7737
GUARANTEE TODAY'S PRICES FOREVER
For as little as $100, you can make it easier for those you love.
NO MONTHLY PAYMENTS
Balance to be paid after death occurs.
Monthly payments optional.
No finance charges. No interest charges.